Integrate success into your business
Integrate success into your business
---
The digital revolution has just reached the next level. Connectivity and processing power are increasing exponentially. Every day new opportunities and requirements arise for integrating systems and improving communication and services. We are at the forefront of this exciting new wave.
The scope of our expertise and know-how, coupled with our flexibility, makes us unique. We can implement the exact solution you require from the ground up, or we can take your existing infrastructure and integrate it seamlessly with our solutions and products.
Let us make you part of the connected world.
IoT SERVICES
Boost your business

Expand your revenue streams – get more out of your projects
---
We provide services and solutions for the connected world. Our IoT services will help you enhance and extend your business, putting you on the fast track to success.
---
IoT PRODUCTS
Improve your infrastructure
Improve your product portfolio – get to market quickly
---
Either out-of-the-box or custom-made, our IoT products can be integrated seamlessly into your existing infrastructure, making it more efficient and effective.
Please click on each link for more details
---
Financial Services
Empower your back office

Deliver your projects more cost-effectively
---
Today, the financial services sector is under increasing pressure through the demands of cost-control, risk management and regulatory compliance. In such an environment, companies need to become ever-smarter in how they run their back office operations.
ESL Financial Solutions Ltd. has an extensive pool of very high-calibre, deeply-experienced staff available to work on client projects.  Most of these consultants have many years of Post Trade Processing / Back Office systems integration and operations experience.  They have encountered most of the challenges before, and have a proven delivery track record. With this expertise under our belt, we provide a full spectrum of systems integration services, including:
Connector.

Programme and project management

Connector.

Business analysis

Connector.

Application development
Connector.

Testing

Connector.

Technical analysis / performance tuning
Connector.

Application support / service management

Connector.

Business operations.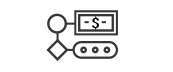 Financial Products
Add value to big data
Let our experience enhance your back office
---
ESL Financial Solutions builds value-added products for the finance industry, using the powerful EventMan® framework.
We have a long history of creating such products.  The following applications we created for a major French investment bank are a case in point:
Connector.

Corporate actions event and diary management

Connector.

Transaction reporting exception management

Connector.

A graphical user interface for the industry-leading trade settlement system: GLOSS

Connector.

Service desk solutions, including KPI and SLA monitoring tools

Connector.

Absence monitoring and timesheet management.

ESL Financial Solutions Ltd. is currently developing a sophisticated suite of tools utilising EventMan® for Trade Processing Operations management, i.e. the Operations Dashboard. In developing the Operations Dashboard, we are collaborating with existing clients, partner vendors and partner consultancies to ensure we meet the market's demands and deliver a product that exceed expectations.
The Operations Dashboard™ will provide a real-time display of the current status of various business operations processes, displaying various operational metrics such as volumes, balances, ages and values measured against specific Key Performance Indicators. These metrics can then be further analysed by various sub-categories (e.g. markets, currency, trade size, trading desk or book, and product), with the ability to drill down into the data with increasing levels of detail.
The Operations Dashboard™ also offers views into the queue management activities of the Operations Department, giving Operations management the ability to monitor lists of pending activity (e.g. outstanding reconciliations, cash management tasks, settlement status, etc.) and focus the company's efforts accordingly.